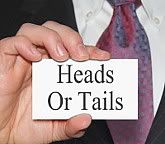 Last week on my "normal" blog I started playing a weekly game. It's called Heads Or Tails - The Tuesday Meme. Every Tuesday there is a new theme to write about. This week's theme is "spin" which of course is a perfect political topic.

So here we go!

Have you ever noticed that a simple headline can spin a political story even more than the story itself? Here are two headlines, talking about the exact same interview with Michael Steele:

Website # 1:
Steele: 2012 "Off the Table" for Palin


Website # 2:

Steele to Palin: "Sarah, come on in"

(subhead:

He wants to see her engage in national politics

)

Here are a few more headlines to illustrate my point:

Website # 1:

Obama on track to break records with congressional support
Obama a reliable ratings magnet for struggling networks
Obama can do no wrong, birth certificate mentions Line of David


Website # 2:

White House open to deal on health
Growing national debt may be next economic crisis
Obama can do no right, may have "666" hidden in hairline


Ok, maybe I made a couple of those up. But we all spin from time to time, don't we? Here are a couple more stories from today's news, revealing very creative spinning from ordinary citizens:

Police charge dad who drove with girl, 5, on lap
ALBUQUERQUE, N.M. - Police charged the father of a 5-year-old girl with child abuse after the girl was spotted behind the wheel of a speeding pickup truck. The father was arrested Thurday when police saw his truck speeding and swerving on the city's west side. Police said the father told them he was trying to teach his daughter how to drive.
Man 'driving commando' pulled over for speeding
The deputy smelled alcohol and noticed that Schultz was partially covered by a towel from the waist down. The Newark, Del., resident told the deputy he'd lost his pants.
No kidding.

Anyway, the moral of the story is - whether you are teaching your children to drive, feeling a little breeze down yonder while cruising the highway, or trying to sway someone's political thoughts - don't be afraid to spin! Everybody does it.

~~~